Outstanding Artist Competition
The competition was established in 2005 to provide an additional performance opportunity for talented pianists from Washington state. It runs concurrently with the MTNA Competition, but is not part of the MTNA Competition. The Outstanding Artist Competition (OAC) may serve as a positive initial step for students desiring to compete in the MTNA Performance Competition in future years.
The OAC is a state level competition with monetary awards.
Outstanding Artist Competition 2018 Guidelines (pdf)
WHEN: November 10-12, 2018
WHERE: Central Washington University, Ellensburg
REGISTRATION DEADLINE: September 12, 2018
QUESTIONS: Cherie Felts, WSMTA OAC Chair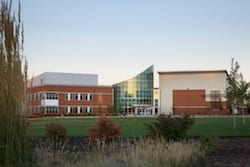 The Music Building at CWU
2017 OUTSTANDING ARTIST COMPETITION WINNERS
JUNIOR (ages 11 – 14)
FIRST PLACE: Jaden Zhang (student of Ni Liu and Peter Mack)
SECOND PLACE: Hanjia Guo (student of Dona Bender)
THIRD PLACE: Diana Ouyang (student of Ivona Kaminska Bowlby)
HONORABLE MENTION (not ranked):
Daniella Tsang  (student of Ni Liu)
Sunny Wang (student of Barbara Roberts and Renato Fabbro)
Constantina Tsang (student of Ni Liu)
Jesse Morris (student of Willard Schultz)
Ricky Qiu (student of Jeffrey Savage)
Zhirui Jerry Li (student of Peter Mack)
Alan Ying (student of Sasha Starcevich)
SENIOR (ages 15 – 18)
FIRST PLACE: David Shichu Liu (student of Ivona Kaminska Bowlby)
SECOND PLACE: Andrew Flurry (student of Oksana Ezhokina)
THIRD PLACE: Anna Wang (student of Nicole Kim)
HONORABLE MENTION (not ranked):
Paige Wiesinger (student of Kathy Tung and Oksana Ezhokina)
David Lin (student of Sumiyo Ohuchi)
Rosario Araceli Tarabi (student of Julie Swienty)
Andrea Liao (student of Anaida Nagdyan)
SiQi He (student of Barbara Miller)
.
OUTSTANDING ARTIST COMPETITION RESULTS