District VII Conference
Anderson & Roe Piano Duo
Saturday, February 11, 2017
Washington State University, Pullman
Daggy Hall Theatre
2:00 p.m. Concert Anderson & Roe
4:45 p.m. Light Dinner
and Q&A with Anderson & Roe
6:30 p.m. Masterclass
REGISTRATION includes concert, dinner, and masterclass: MTNA Member $38 | Non-MTNA member $43 | WSU student $7 | Non-WSU student or youth $16 | Spouse of MTNA member or a parent $25
CONCERT-ONLY (no dinner or masterclass) tickets are available through TicketsWest: adult $18 | senior $15 | student $9
Daggy Hall is located a the northwest corner of Idaho St and College Ave on the WSU Campus. The parking lot next to Daggy Hall is free on weekends.
To register for this event, please choose one:
The masterclass application deadline is January 27, 2017. CLICK HERE for the application form.
Contact Karen Savage, Pullman Chapter President for more information about the workshop or the masterclass.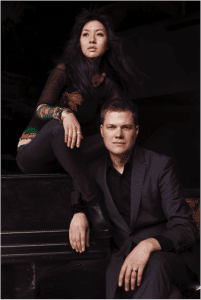 Anderson & Roe Duo
Known for their adrenalized performances, original compositions, and notorious music videos, Greg Anderson and Elizabeth Joy Roe are revolutionizing the piano duo experience for the 21st century. Described as "the intense synchronization of genius" (ThirdCoast Digest) and "the most dynamic duo of this generation" (San Francisco Classical Voice), the Anderson & Roe Piano Duo aims to make classical music a relevant and powerful force around the world. Their recent album, When Words Fade(Steinway Label), was released to critical acclaim in 2012 and spent over a dozen weeks at the top of the Billboard Classical Charts, while their Emmy-nominated and self-produced music videos have been viewed by millions on YouTube. Highlights of the 2013-14 season include tours throughout North America, Asia, and South Africa; an appearance at the Gilmore International Keyboard Festival; a new all-Mozart album on the Steinway Label; and the release of their ambitious—and literally explosive—music film, The Rite of Spring.
Mr. Anderson and Ms. Roe met in 2000 as freshmen at The Juilliard School and formed their dynamic musical partnership shortly thereafter. They have since toured extensively, with notable recitals in Beijing, Seoul, Singapore, Italy, Vancouver, and most major US cities, as well as in nearly every New York City venue imaginable, from Carnegie Hall to children's hospitals. Together they have appeared on MTV's Total Request Live, NPR's All Things Considered and From the Top, APM's Performance Today, the Cliburn Concert Series, the Gina Bachauer International Piano Festival, and dozens of summer chamber music festivals. Their orchestral engagements include performances with the Hartford, Santa Fe, and Lafayette Symphony Orchestras, and with members of the Metropolitan Opera Orchestra.
In recognition of their singular vision for the advancement of classical music, they have been invited to present at numerous international leader symposiums, including the EG (Entertainment Gathering), the Imagine Solutions Conference, Chicago Ideas Week, and Mexico's Think Tank Festival for Brilliant Minds. Their scores are published by Alfred Music on the "Anderson & Roe Duos & Duets Series" and by Awkward Fermata Press.
Mr. Anderson and Ms. Roe left an indelible impression at The Juilliard School, where they both earned their bachelor's and master's degrees. A live performance by the Anderson & Roe Piano Duo is included on theSounds of Juilliard album celebrating the school's centennial year. In 2006, given only two months to compose and prepare, they gave the world premiere of their own composition Star Wars Fantasy: Four Impressions for Two Pianos, replacing John Williams on Juilliard's "Cinema Serenades" concert in Alice Tully Hall. Additionally, the two directed the groundbreaking project "Life Between the Keys," an event that involved the entire Juilliard Piano Class of 2004; this performance project celebrated the class's unique camaraderie and chronicled its Juilliard experience in an all-American program of piano music.
Anderson & Roe believe strongly in the communicative potential of music, and their performances, compositions, websites, videos, recordings, and writings all serve this mission, bringing joy to people around the world. As the Northwest Reverb recently stated, "[Anderson & Roe] swept the audience into a cheering mass of humanity, making a strong case that playing piano is the most fun thing that two people could ever do together."
Greg Anderson & Elizabeth Joy Roe are Steinway Artists.
District I and II Conference
Freedom and Joy:  Exploring Innovative Ways to Be a Music Educator
Dr. Jody Graves, NCTM and Forrest Kinney, NCTM
Saturday, October 8, 2016
9:30 am to 4:30 pm
Marysville United Methodist Church
5600 64th St. NE, Marysville, WA 98270
Are your lessons joyous? Creative? Or do you feel enclosed in a box, striving to be correct, or begging students to practice? There are so many joyous ways to be a music teacher that we were never taught, and often basic musicianship and skills that are crucial for learning and playing the great repertoire are sacrificed along the way.  Spend a liberating and lively day with Jody and Forrest exploring the options!
The day will included lively presentations on many topics
* creative practicing techniques for all levels of students
* using literature to teach beginning composition
* ways to learn and teach improvising, including duets and group improvisation
* how to help students make their own arrangements of popular songs
* songwriting for teenagers and adults
* the foundations of a flowing technique
* techniques to diminish performance anxiety
* how to move beyond teaching "performers" to educating "creators"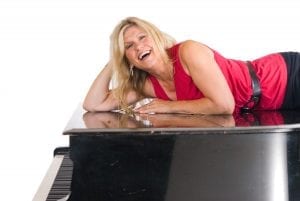 Dr. Jody Graves, NCTM
maintains an exciting, diverse and active performing career, and is recognized nationally as a distinguished artist and teacher of piano.  Her recital engagements as a soloist and collaborative pianist take her across the United States and abroad.  She has toured in the Persian Gulf serving as a Cultural Ambassador for the U.S. State Department.
Her 4th recording project is 'ANANDA – Notes from the Heart' .  Graves is the pianist with the acclaimed Sapphire Trio.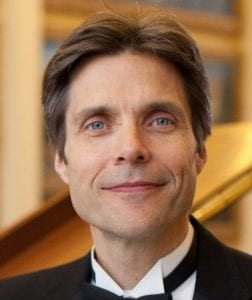 Forrest Kinney, NCTM
has taught music for 40 years. He is the author of 19 books including the Pattern Play series on improvisation, the Chord Play series on arranging, and Creativity—Beyond Compare.
Forrest has given hundreds of presentations for music educators throughout North America and Europe. He is a pianist, and has played 24 times at the home of Bill Gates. He is also a composer whose arrangements are included in over 40 publications.
Registration Fees:  WSMTA Member $45 | Non-Member $50 | Student $20
Contact Kathy Mortensen for information about future district conferences.
District V CONFERENCE
The First Steps to Artistry
Dr. Yelena Balabanova, NCTM
Saturday, October 15, 2016 from 9:30 am to 4:00 pm
Grace Lutheran Church Ÿ1408 Washington St., Wenatchee, WA 98801
The First Steps to Artistry "is the exciting journey of pursuing artistry, and the ability to deliver that artistry in performance. The students with physical freedom and an open mind share their imagination and emotion; they are fully connected with their inner sound picture and the instrument.  The resulting musical image is transporting the listener away into the world of the composer and performer. This process can start and be taught at any level or age. The magical transformation of an ugly duckling into a beautiful swan begins with this workshop.
9:30 -10:00 am Check-in
10:00 -11:30 am Dr. Balabanova presented a technique workshop
11:30 -12:30 pm Lunch
12:45 -2:00 pm Master Class
2:15 -4:00 pm Workshop: Tips and Tricks and Power to Be Nervous
The First 24 Lessons of Artistry through Technique
When does the artistry begin? When do we teach the connection with the instrument? Physical freedom? And how do we do that?
Dr. Balabanova extensive guide of 24 beginner lessons will answer those and many other questions. Tired of students "typing" on the piano? Tension in wrists and arms? Harsh sound? And most of all, students' lack of correct practicing at home? This workshop is packed with video clips of young students playing beginner elements in their own homes. Not polished performances but real world lesson process is truly captured.  This workshop is born in "the trenches" with all the grit and honesty of teaching in a private studio.
Dr. Balabanova will show you how to integrate the technique, imagination, and artistry from the very first lesson in a practical and efficient way. Each new element builds on the previous. The approach is a result of combining Dr. Balabanova's extensive Russian training and her experience of teaching in United States since 1994. Her goal is to combine the best of both worlds and the result is this workshop.
As teachers we come from different backgrounds and have to understand our own approach to technique and artistry. During workshop, the audience is invited to try the technical elements being demonstrated.
Participants are invited to bring their questions and stories about their own learning experience.
Artistry is the result of developing the inner ear and technical fluency to deliver the desired sound. Physical freedom can be achieved from the start through attention to the detail, patience, and observation. The well-rounded student is able to read music and rhythm, work on interpretation, and identify their mistakes. We as teachers can effect powerful changes in how students approach and navigate every lesson and practice at home.  Dr. Balabanova provides specific tools to use during lessons to help employ the skills, freedom, and confidence required for artistry from the start.
In the second half of the workshop, Dr. Balabanova will discuss and demonstrate tips and tricks for intermediate and advanced students and their repertoire. Those proven small changes lead to big results. She will also present her tools for performance preparation, overcoming stage fright, and having fun while doing it!
Registration Fees: WSMTA Members $47 (conference and lunch) or $40 (conference only) | Non-members $50 | Student $20
Contact Lisa Sauer for information about future district conferences.
District VI Workshop
Dr Jay Mauchley and Sandra Mauchley
Friday, October 14, 2016
9:30 a.m. – 3:00 p.m.
Richland Public Library, 955 Northgate Drive, Richland WA
Two morning sessions:
Choosing Literature and Preparing Students for Recitals, Contests, and Adjudications.
The Joy of Artistic and Stylistic Performance: How to bring our imaginative color and musical creativity in your playing.
A no-host luncheon in a Pullman train car followed by an afternoon session from 1:30 p.m. to 3:30 p.m.:
3. Are We Together? the fine points of ensemble playing.
There were no registration fees.
The Tri-City Chapter shared the cost for this presentation.
Contact Onnie Adams for information about future district conferences.