2018 WSMTA – OMTA Joint Conference
June 20 – 23, 2018 in Vancouver, WA
Washington and Oregon are collaborating to bring you a joint state conference for 2018.
We are very excited to be offering a wide variety of sessions: playing with more freedom, movement and rhythm; students and sports; practicing and technology; and more! There will be two master classes and several lectures given by our invited artists. You will have the opportunity to listen to fabulous performances through the many student recitals along with not to be missed evening concerts. The schedule is packed full of choices!
Start the conference with a more relaxed feeling by enjoying an afternoon of student performances, attend a hands-on organ workshop and take advantage of opportunities to explore the surrounding area. Top off your evening with the Winners Recital, an amazing array of students who were winners at the State MTNA Competitions and Outstanding Artist Competition. Then rest up in
your luxury hotel room to get ready for the days to come of learning, listening and socializing.
The location is a beautiful rustic hotel (but with all the modern amenities!) called the Heathman Lodge. It is located in the heart of Vancouver but the property sits amongst tall evergreens creating a private oasis amidst all the bustle of a city. It is the unexpected urban retreat!
Our guest artist will be Hans Boepple from Santa Clara University, California. He is Steinway International Artist and Master Teacher. As an extra treat we will be featuring up and coming stars of our Northwest: Charlie Albright, pianist; Kenji Bunch, violist/composer; and Monica Ohuchi, pianist.
This will be a great opportunity to share music and friendships with our colleagues in Oregon.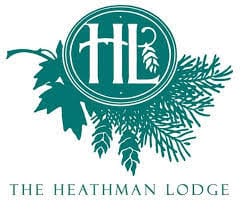 Book your room at the Heathman Lodge by May 31 for the WSMTA/OMTA room rate of $144/night + tax
Call 1-888-475-3100 to reserve your room
or
2018 CONFERENCE GUEST ARTISTS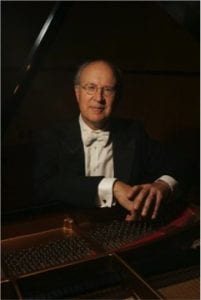 American pianist Hans Boepple is an artist who shows rich musicality along side stunning technical command.  His debut with the Los Angeles Philharmonic Orchestra at age 10 set in motion collaboration with orchestras and conductors of international reputation. Boepple is guest artist on solo and orchestral concert series across the United States.
A Steinway International Artist, Hans Boepple has received numerous performance honors, most notably First Prize in the International J.S. Bach Competition (Washington, DC). He is a prizewinner in the Kosciuszko Chopin (NYC), the MTNA national competitions and a six-time winner of the Coleman Chamber Music Award (Los Angeles). National Public Radio and Voice of America have broadcast his live performances.
Mr. Boepple earned both a Bachelor and Master of Music in Piano Performance and received the honor of a Performer's Certificate from Indiana University Jacobs School of Music where he studied with renowned American pianist Sidney Foster. A full-time member of the piano faculty at the IU l974-78, Boepple joined the faculty of Santa Clara University (CA) in 1978.
In demand as an adjudicator, lecturer, and master teacher, Mr. Boepple balances his performance calendar with being a dedicated teacher. His students have earned more than 160 state, national, and international awards. He has received the Master Teacher Certificate from the Music Teachers National Association and the Lifetime Achievement Award from the California Association of Professional Music Teachers.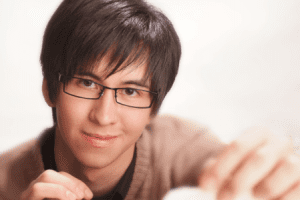 Hailed as "among the most gifted musicians of his generation" with a "dazzling natural keyboard affinity" who "made quite an impression" by the Washington Post, American pianist/composer/improviser Charlie Albright has been praised for his "jaw-dropping technique and virtuosity meshed with a distinctive musicality" by The New York Times. Recipient of the prestigious 2014 Avery Fisher Career Grant and 2010 Gilmore Young Artist Award, Albright won the 2014 Ruhr Klavier Festival Young Artist Award presented by Marc-André Hamelin (Germany) and the 2009 Young Concert Artists International Auditions.  In addition to performing, Albright is sought after as a speaker, masterclass instructor, teacher, and competition judge.  His debut commercial recording, Vivace, has sold thousands of copies worldwide and the first of a 3-part Schubert Series of live, all-Schubert recordings was released in 2017.
Albright's 2017-2018 Season includes solo debuts at the Bergen International Festival (Norway), with the Buffalo Philharmonic, the Quad City Symphony Orchestra, and the Chamber Orchestra of Philadelphia, as well as return engagements with the Seattle, Des Moines, and Hilton Head Symphony Orchestras.  He begins a third 3-concert series of concerts at Boston's Isabella Stewart Gardner Museum entitled Chopin and Albright, consisting of all Chopin works and an entirely improvised concert by the pianist.  Among many other concerts, Albright's other engagements include a talk on improvisation at the 2017 National Conference for Keyboard Pedagogy and judging the 2018 Northwest Chopin Festival National Piano Competition.
Albright has appeared as a guest artist with such innumerable orchestras and regularly works with artists from all genres, including vocalist/conductor Bobby McFerrin, violinist Joshua Bell, and cellist Yo-Yo Ma. Albright's compositions and improvisations have been likened to "the great Romantic-era composer-pianists" by Classical Source and have been praised as "thrilling" by the DC Metro Theatre Arts.
A firm believer in education, Albright founded the Charlie Albright Scholarship and Charlie Albright Piano, in collaboration with the Centralia College Foundation in his hometown. The Scholarship provides financial aid to music students, and money was raised to purchase a new 9-foot Steinway Piano for the college's Corbet Hall.
Born in Centralia, Washington, Albright began piano lessons at the age of 3. He studied with Nancy Adsit and earned an Associate of Science degree at Centralia College while still in high school. He was the first classical pianist in the Harvard College/New England Conservatory 5-Year AB/MM Joint Program, completing a Bachelor's Degree as an Economics major and Pre-Med student at Harvard in 2011, and a Master of Music Degree in Piano Performance at NEC in 2012, having studied with Wha-Kyung Byun. He graduated with the prestigious Artist Diploma (A.D.) from The Juilliard School in 2014, having studied with Yoheved Kaplinsky.   For the latest information, please visit CharlieAlbright.com and Facebook.com/CharlieAlbrightPianist.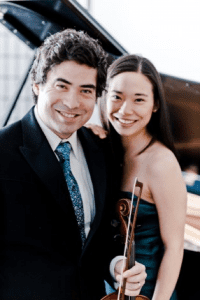 KENJI BUNCH and
MONICA OHUCHI
Composer/performer Kenji Bunch has received acclaim from audiences, performers, and critics alike for his work combining vernacular American influences with techniques from his classical training to create a unique vocabulary of New American music. His compositions have been performed by over fifty American orchestras, and in premiere venues on six continents. Recordings of his music are regularly broadcast on radio worldwide and are available on 18 different record labels.
Mr. Bunch maintains an active performing career, and is recognized for his own groundbreaking works for viola. Deeply committed to exploring connections with musicians from other backgrounds as well as artists of other disciplines, Mr. Bunch has collaborated with choreographers, film directors, actors, and prominent rock, jazz, folk, and experimental musicians.
A graduate of the Juilliard School and a 20-year veteran of the New York City musical world, he returned in 2013 to his native Portland, Oregon, where he lives with his wife, concert pianist Monica Ohuchi, their two children, and their dog, Coffee.
Mr. Bunch has served as Artistic Director of Fear No Music since 2014, and teaches viola and composition at Reed College and Portland State University, and is the head music theory teacher for the Portland Youth Philharmonic.
Monica Ohuchi, a native of Seattle, Washington, Ms. Ohuchi began her piano studies at the age of two with her mother, Sumiyo Ohuchi.  Her past teachers include Marc Duran, Martin Canin, Bela Siki and David A. Brown.
Monica Ohuchi's "commanding pianism" (The New York Times, Anthony Tommasini) allows her an active career as a piano soloist, chamber musician, and pedagogue. She is the pianist and Executive Director of Fear No Music, a founding member of the piano quartet Thunder Egg Consort, and performs locally with 45th Parallel, Chintimini Chamber Music Festival, and is a frequent guest on Portland 's All-Classical radio station. Her past engagements include soloing with the Colorado Symphony Orchestra, Marin Symphony Orchestra, Newport Symphony Orchestra, and the New Millennium Symphony Orchestra of Spain. Her solo album released on Helicon records label, "Monica's Notebook", is a series of piano Etudes written expressly for her by Kenji Bunch. Monica holds advanced degrees from the Juilliard School.  After fifteen years in New York City, Ms. Ohuchi recently relocated to Portland, Oregon where she now lives with her husband Kenji, their two young children and Pitbull-mix rescue dog.
WEDNESDAY, JUNE 20, 2018

CONFERENCE BONUS DAY

FREE DAY

BRING A FRIEND!

NON-MEMBERS WELCOME!

8:00 a.m. – 5:00 p.m. REGISTRATION
8:30 a.m. – 5:00 p.m.
VENDORS AND DISPLAYS
8:00 – 8:50 a.m.
IMTF: RoseMarie Tamburri
WA MAP Chairs: Stephanie White, NCTM
9:00 – 9:40 a.m.
Separate WA & OR OPENING SESSIONS

9:40 – 10:00 a.m.
JOINT WA/OR OPENING SESSION

MORNING COFFEE BREAK

10:30 – 11:30 a.m. 

Rubato in Context: How Architecture and Phrase Structure Affect the Time We Take
– Jeffrey Savage, NCTM

Classical Music on the Spot: The Teaching of an Eighteenth-Century Improviser
– Johnandrew Slominski


BONUS DAY!

STARTS AFTER LUNCH


1:00 – 2:30 p.m.
HONORS RECITAL #1
1:30 – 2:30 p.m.

Piano Methods From Around the World
– Lark Powers, NCTM

Music Technology in Today's Private Studio: The Pedagogical Summit
– Elizabeth Morris

1:00 – 5:00 p.m.
Organ Workshop
– Joann Richardson, NCTM & Martha Natiuk
(off-site location)
3:00 – 5:00 p.m.
Pre-Conference REGISTRATION
3:30 – 5:00 p.m.
HONORS RECITAL #2
5:30 – 6:00 p.m.
Meet-Up for Young Professionals
DINNER ON YOUR OWN

7:30 p.m.
WSMTA WINNERS RECITAL
(reception to follow)
THURSDAY, JUNE 21, 2018

8:00 a.m. – 5:00 p.m. REGISTRATION
8:30 a.m. – 5:00 p.m.
VENDORS AND DISPLAYS
8:00 – 8:50 a.m.
IMTF: RoseMarie Tamburri
WA MAP Chairs: Stephanie White, NCTM
9:00 – 9:40 a.m.
Separate WA & OR OPENING SESSIONS

9:40 – 10:00 a.m.
JOINT WA/OR OPENING SESSION

MORNING COFFEE BREAK
10:30 – 11:30 a.m. 

Rubato in Context: How Architecture and Phrase Structure Affect the Time We Take
– Jeffrey Savage, NCTM

Classical Music on the Spot: The Teaching of an Eighteenth-Century Improviser
– Johnandrew Slominski


11:45 a.m. – 1:15 p.m. – LUNCH
1:00 – 2:30 p.m.
HONORS RECITAL #3
1:30 – 2:30 p.m.

Piano Methods From Around the World
– Lark Powers, NCTM

Music Technology in Today's Private Studio: The Pedagogical Summit
– Elizabeth Morris

AFTERNOON COFFEE BREAK

3:00 – 4:00 p.m.
Sports vs. Music: How to Use Your Student's Athletic Pursuits to Their Musical Advantage
– Stephanie White, NCTM

4:00 – 5:30 p.m.
YOUNG COMPOSERS PROJECT & COMMISSIONED COMPOSER RECITAL
(reception to follow)

4:00 – 5:00 p.m.
WA District VP Meeting

5:30 – 6:00 p.m.
Meet-Up for Young Professionals
DINNER ON YOUR OWN

8:00 p.m.
GUEST ARTIST RECITAL
Hans Boepple (reception to follow)
FRIDAY, JUNE 22, 2018

8:00 a.m. – 5:00 p.m. REGISTRATION
8:30 a.m. – 5:00 p.m.
VENDORS AND DISPLAYS
8:00 – 8:50 a.m.
IMTF: RoseMarie Tamburri
WA MAP Chairs: Stephanie White, NCTM
9:00 – 10:00 a.m.
Towards Advance Playing,
Part 1: Technique
– Hans Boepple, Guest Artist

MORNING COFFEE BREAK
10:30 – 11:30 a.m.
Connecting the Part to the Whole: Enhancing Freedom and Support for the Arms
– Anita King, NCTM

Embody Rhythm ~ From the Inside Out
– Mary Kogan


11:45 a.m. – 12:45 p.m. LUNCH

11:45 a.m. – 12:45 p.m.
Certification: Rose Freeman, NCTM (WA)

1:00 – 2:15 p.m.
MASTER CLASS – Hans Boepple
2:30 – 3:30 p.m.
The Secret Diary of "Monica's Notebook": The Nuts and Bolts of Creating New Repertoire for Piano
– Monica Ohuchi and Kenji Bunch

AFTERNOON COFFEE BREAK
4:00 – 5:00 p.m.
When Practice Is Not Enough
– Yelena Balabanova, NCTM

Free Stuff On the Internet!
– Michelle Mielke, NCTM

Some of Our Favorite Organ Music
– Joann Richardson, NCTM & Martha Natiuk

4:15 – 5:30 p.m.
HONORS RECITAL #4
6:00 p.m. SOCIAL TIME
6:30 p.m. BANQUET
8:00 p.m.
RISING NW STARS CONCERT
Charlie Albright
Monica Ohuchi & Kenji Bunch
(reception to follow)
SATURDAY, JUNE 23, 2018

8:00 a.m. – 5:00 p.m. REGISTRATION
8:30 a.m. – 5:00 p.m.
VENDORS AND DISPLAYS
8:00 – 9:00 a.m.
MusicLink: Amy Vanacore (NW Chair), Debra Sostrin (OR Chair) and Karen Monroe (WA Chair)
8:15 – 9:00 a.m.
WA Chapter Presidents: Krista Seely

8:30 – 10:00 a.m.
OR Closing Session

9:15 – 10:00 a.m.
WA Closing Session

MORNING COFFEE BREAK
10:15 – 11:30 a.m.
MASTER CLASS
– Charlie Albright
11:45 a.m. – 12:45 p.m.
Towards Advance Playing
Part 2: Musicianship, Artistry, and Performance
– Hans Boepple, Guest Artist
12:45 – 1:00 p.m.
Joint WA/OR Closing Session
1:30 – 2:30 p.m.

Piano Methods From Around the World
– Lark Powers, NCTM

Music Technology in Today's Private Studio: The Pedagogical Summit
– Elizabeth Morris

1:00 – 5:00 p.m.
Organ Workshop
– Joann Richardson, NCTM & Martha Natiuk
(off-site location)
3:00 – 5:00 p.m.
Pre-Conference REGISTRATION
3:30 – 5:00 p.m.
HONORS RECITAL #2
5:30 – 6:00 p.m.
Meet-Up for Young Professionals
DINNER ON YOUR OWN

1:00 p.m. HOME!
WEDNESDAY, JUNE 20 – FREE DAY!
Joann Richardson, NCTM and Martha Natiuk
PRE-CONFERENCE ORGAN DAY: Wednesday, June 20, 2017 from 1:00-5:00PM (Off-site location)
Pre-Conference Organ Day is designed for pianists transitioning to organ, for organ teachers, and for anyone who has an interest in learning more about the organ. Participants are encouraged to volunteer for hands-on time at the console as concepts are being demonstrated during the sessions. In addition, participants are encouraged to bring photos and stop-lists of the organ(s) that they play to these interactive sessions. Three sessions (with 15 minute breaks between sessions) followed by a 30 minute Q & A session will be offered. (Descriptions of the three sessions will be sent in separate proposals)
Session I (1:00-2:30): LIFE IN THE COCKPIT— AN INTRODUCTION TO NAVIGATING THE PIPE ORGAN
This session focuses on organ stops and how to combine them; pitch levels; registration for hymns and solo music; techniques for adding and subtracting stops by hand and by using combination actions; and adapting registrations to fit the acoustics of the room and the instrument at hand.
Session II (2:45-3:15): BUT WHAT DO I DO WITH MY FEET? THE BASICS OF ORGAN PEDAL TECHNIQUE
This workshop includes: body positioning; articulated vs. detached pedaling and when to use each; heel/toe technique; pivoting; moving between notes and intervals; substitution; glissando; pedal nomenclature; and foot crossing.
Session III (3:30-4:30): UNDERSTANDING DENOMINATIONAL MUSICAL DIFFERENCES AND HOW THE ORGANIST CAN ADAPT
Musical requirements for worship services of different denominations can vary greatly. This workshop will illustrate some of these differences and give practical advice on how the organist may prepare for: different traditions in hymnody; hymn introductions; how to improvise accompaniments; when solo music may be required during the worship service; traditional, contemporary, and blended services; and flexibility when dealing with surprise musical requests.
Jeffrey Savage, NCTM
RUBATO IN CONTEXT: HOW ARCHITECTURE AND PHRASE STRUCTURE AFFECT THE TIME WE TAKE
This presentation will address how we can more effectively use rubato and/or "breathing" in many styles of music. The larger structure of the music often plays a significant part in determining the way in which we take time, and failing to understand this can make rubato awkward or even counterproductive. The discussion will focus on music of Chopin and Beethoven, but will also include many other composers.
Johnandrew Slominski
CLASSICAL MUSIC ON THE SPOT: THE TEACHING OF AN EIGHTEENTH-CENTURY IMPROVISER
Musicians trained in Neapolitan conservatories were in great demand throughout eighteenth-century Europe, and earned reputations as improvisers of the highest level. These musicians profoundly influenced pedagogy, performance, and musical thought in innumerable ways both in Italy and beyond; those who worked in the Neapolitan traditions included celebrated masters who are lesser known today (Leonardo Leo, Francesco Durante, and Carlo Cotumacci, for instance) as well as household names like Gaetano Donizetti, Domenico Scarlatti, Domenico Cimarosa, and Wolfgang Amadeus Mozart.
This presentation illuminates historical sources, methods, and modes of thought in eighteenth-century improvisation, and demonstrates hands-on ways for teaching modern-day musicians to improvise. By following in the footsteps of eighteenth-century master pedagogues, we will discover ways to guide our students and ourselves along paths toward a deeply creative approach to music-making.
Lark Powers, NCTM
PIANO METHODS FROM AROUND THE WORLD
Much has been written about the value, advantages, and disadvantages of piano method books for beginning students. However, few comparative studies on the methodology of different international approaches exist. The objective of this joint session is to present, discuss, and contrast piano methods at the beginning level from different pedagogical traditions by authors from France, Germany, Hungary, Cuba, and Japan. Elements discussed will include the approach to introducing note- reading, how technique is built, the structure of rhythmic exercises, and the introduction of general musicianship, as well as the use of fanciful elements that engage children. We will compare and contrast these approaches to ones used in English- speaking countries, particularly American piano methods. Teachers may find inspiration for teaching specific skills through the analysis of these method books, as well as gaining increased awareness of what texts are used worldwide, while enjoying a lively discussion of pedagogical merits and cultural values.
Elizabeth Morris
MUSIC TECHNOLOGY IN TODAY'S PRIVATE STUDIO: THE PEDAGOGICAL SUMMIT
Today's private music studios have high expectations, including the integration of applicable technology. This talk examines the rapidly changing world of music education technology and the process of transitioning from a teacher-based technology system (the Practical Plane) to a student-directed technology system (the Pedagogical Summit). While navigating the world of music technology can be confusing and frustrating, music technology is an important tool by which teachers connect with students, encourage collaboration amongst students, and teach musical skills. Interactive games and real-life examples will assist teachers in applying some of the industry's best and most accessible software and mobile apps, such as computer- based notation software, digital audio workstations (DAW), live production software, and a wide variety of mobile apps, including apps for music theory and note reading. While more professional programs will be discussed, the emphasis is focused on inexpensive, easy to implement software and applications.
Stephanie White, NCTM
SPORTS VS. MUSIC: HOW TO USE YOUR STUDENT'S ATHLETIC PURSUITS TO THEIR MUSICAL ADVANTAGE
Private music teachers are constantly dealing with sports and the effect they can have on student's lives. Often these sports activities are viewed as a frustration from the teacher's perspective since they contribute to over scheduled lives, and take away from student downtime and practice time. But what if we use their athletic skills to help them understand music principles and practice techniques? This presentation will lay out general concepts to sports performance, and how to connect what our students are doing on the field or court to make them more effective and efficient in their practicing. I will also break down specific popular sports and discuss how to interact with your students to help you speak their "sport" language.
Hans Boepple
PART 1: TOWARD ADVANCED PLAYING: TECHNIQUE: Intermediate – Advance levels
Anita King, NCTM
CONNECTING THE PART TO THE WHOLE: ENHANCING FREEDOM AND SUPPORT FOR THE ARMS
Focusing on the relationship of the arms to the torso and legs, this session explores the means for optimal coordination of the arms in practice and performance. Making a comparison to musical structure, where notes and rhythms are organized in relation to the music's slower elements, the movements of the arm structure are organized and supported in relation to the body's core.
Topics include:
1) Securing whole-body participation in every moment with various parts of the body moving simultaneously at different speeds
2) Exploring the benefits of thinking like a quadruped
3) Putting movement choices on a sound anatomical foundation
4) Exploring the role of sequential movement in coordinating arms, legs and torso
5) Developing the tactile sense to clarify one's boundary with the instrument
Session format is presentation and short performance demonstrations at the piano. Participants will also explore a range of arm, torso and whole-body movements and engage in awareness-building exercises related to the tactile and kinesthetic senses. Non-pianists are encouraged to bring their instrument and pianists will find a surface with which to engage like a table, notepad, or music stand.
Mary Kogen
EMBODY RHYTHM ~ FROM THE INSIDE OUT
As educators, we must become more aware of the body's role in learning. Research now proves that movement profoundly improves learning, creativity, and health. It helps maintain clear thought, memory, and vitality. Thinking, learning and making music is a full body experience. When we experience music through movement, we awaken and activate our mental capacities.
When we integrate and anchor new information through movement, music becomes part of us. We do our students a great service by teaching them to "be rhythm" as they learn. In this session, teachers will explore, and experience how the body integrates through rhythm. They will learn how to begin movement and embody rhythm at lesson one, and how to make it an integral part of every lesson at all levels. They will learn how to get their students more physically involved in the learning process, how to incorporate rhythmical audiation in the learning process, and how to teach polyrhythms with the whole body as the instrument. At the end of this session, teachers will leave with concrete techniques and ready-made exercises for enhancing their students' musical experiences through embodying rhythm.
Rose Freeman, NCTM (WA) and Monica Sanders, NCTM (OR)
PRESERVING PROFESSIONALISM – MTNA CERTIFICATION 101
How do you maintain professionalism in your studio? Our professional organization, MTNA, has worked diligently to provide us with the best program to become Nationally Certified. The five project Certification process gives each teacher a unique opportunity to answer questions specific to their studio and grow as educators. Whether you've been teaching for two years or twenty, pursuing National Certification adds an additional layer that speaks to your credibility as a teacher and sets a standard for private music education across the nation. Those who attend this workshop will leave with an understanding of the application process, the five profile projects, and how MTNA Certification will preserve and re-inspire your teaching as a Professional Music Educator!
Monica Ohuchi and Kenji Bunch
THE SECRET DIARY OF "MONICA'S NOTEBOOK": THE NUTS AND BOLTS OF CREATING NEW REPERTOIRE FOR PIANO
Discussions about the collaborative process of commissioning, composing, recording and performing brand new works and touch on details such as gradations of technical difficulty, recording production and promotion and editing.
Yelena Balabanova, NCTM
WHEN PRACTICE IS NOT ENOUGH
In this dynamic, entertaining, and inspirational presentation, audience members will learn how to motivate students to practice, how to make sure that students follow teachers' directions, and how to teach students to practice efficiently.
In the first part, Dr.Balabanova explores main factors that prevent students from regular practice besides common opinion of an "overscheduled" student. Does the sub consciousness play a role? What qualities can predict if a student will practice? In the second part, Dr. Balabanova offers unexpected twist on practice schedule and organization for students and parents. How to make sure that a student is following directions? Why some students spend time at their instrument and make a very slow or no progress?
In the third part, Dr. Balabanova offers methods and tips for efficient, goal-oriented practice that produces exciting results and motivation for future learning. The presentation is based on 34 years of her teaching experience. 20 years of coaching teachers, and many years of adjudicating.
Michelle Mielke, NCTM
FREE STUFF ON THE INTERNET!
This presentation will offer sources for a variety of free materials pertinent to music teachers, including worksheets, teaching aids, music scores, listening files, educational webinars, composition tools, websites appropriate for students, and a list of free apps.
Joann Richardson, NCTM and Martha Natiuk (Off-site location)
SOME OF OUR FAVORITE ORGAN MUSIC
After many years of playing organ for various churches, certain pieces of music become tattered from frequent use. We will share some of our favorite well-worn organ music that is of easy to moderate difficulty. Suggestions for registration will also be included.
Amy Vanacore (NW Chair), Debra Sostrin (OR Chair) and Karen Monroe (WA Chair)
FINDING MEANING AND CONNECTING WITH YOUR COMMUNITY THROUGH MUSICLINK
What kind of impact are you having? Who are you helping? This is a workshop for teachers that want to deepen their connection to their community and serve students from socioeconomically diverse backgrounds. Private music lessons have historically been– and continue to be– primarily for students from middle class and higher income families. Access to quality music instruction for low income students is extremely limited, but we can change that!
Learn from current MusicLink teachers how to recruit students with financial need to your studio, develop supportive relationships with students and parents, access local and national resources such as free instruments, sheet music, concert tickets, and summer music camp scholarships, and network with a growing cadre of powerful, caring MusicLink teachers in your area.
MusicLink is a national foundation that connects students from low-income families with professional music teachers who are willing to offer at least a 50% discount to students in need. MusicLink also provides wonderful resources for students and teachers. Learn about the growing movement in the Pacific Northwest to increase access for students in need!
Hans Boepple
PART 2: TOWARD ADVANCED PLAYING: MUSICIANSHIP, ARTISTRY, AND PERFORMANCE: Intermediate – Advance levels
Online registration will be available on February 27, 2018.
REGISTRATION
MEMBERS
NON-MEMBERS
FIRST-TIME CONFERENCE ATTENDEES
PRESENTERS
STUDENTS
Full-time, before May 15, 2018
$140
$190
$90
$105
$75
Full-time, after May 15, 2018
$170
$220
$125
$127.50
$90
One day, before May 15, 2018
$70
$95
$55
$52.50
$35
One day, after
May 15, 2018
$85
$110
$70
$63.75
$45
You must register for either one day (part-time) or as full-time.
If you chose to come for two full days of the conference, it would be the same cost as the full-time registration fee.
REMEMBER, Wednesday, June 20, 2018 is a pre-conference BONUS DAY and admission to the events on that day is free.
Admission to recitals and concerts is included in the registration fee.
The costs below are for extra tickets for people not registered for the conference on those days.
RECITAL TICKETS
COST
Honors Recitals on Wednesday, June 20, 2018
FREE
WA Winners Recital on Wednesday, June 20, 2018 at 7:30 p.m.
FREE
Honors Recitals on Thursday, June 21, 2018 and Friday, June 22, 2018
$10
Masterclasses
(with Hans Boepple on Friday, June 22, 2018 and Charlie Albright on Saturday, June 23, 2018)
$10
Guest Artist Recital – Hans Boepple
Thursday, June 21, 2018 at 8 p.m.
$15
Rising NW Stars Concert – Charlie Albright and Monica Ohuchi & Kenji Bunch
Friday, June 22, 2018 at 8 p.m.
$15
INFORMATION FOR VENDORS – coming soon
INFORMATION FOR ADVERTISERS
BOOKLET ADS
Online form for purchasing ads for the conference booklet will be available on March 5, 2018.
| AD SIZE | DIMENSIONS | COST |
| --- | --- | --- |
| Full page | 8" W x 9-3/4" H | $200 |
| 1/2 page | 8" W x 4-3/4" H (horizontal only) | $150 |
| 1/4 page | 3-7/8" W x 4-3/4" H (vertical only) | $100 |
| 1/8 page | 3-7/8" W x 2-5/16" H (horizontal only) | $50 |
| Front of back INSIDE cover | Full Page: 8" W x 9-3/4" H | $250 |
SPONSOR A BREAK OR RECEPTION AT THE CONFERENCE
Sponsors of breaks and receptions will have their names listed in the conference program booklet as well as having their names displayed prominently at the break or reception they have sponsored.
Chapters who would like to contribute to a break or reception but cannot afford full sponsorship of one event are welcome to contribute any amount over $50 to partially sponsor an event.
CLICK HERE to sponsor a break or a reception at the conference.
| RECEPTION OR BREAK | OPTIONS | COST |
| --- | --- | --- |
| AM Coffee breaks | Local affiliates (chapters), individual members, or associate members | $400 |
| AM Coffee breaks | Non-Members | $600 |
| PM Coffee breaks | Local affiliates (chapters), individual members, or associate members | $300 |
| PM Coffee breaks | Non-Members | $500 |
| YCP and WA Winners Receptions | Local affiliates (chapters), individual members, or associate members | $200 |
| YCP and WA Winners Receptions | Non-members | $400 |
| Young Professional Meet-Up | Local affiliates (chapters), individual members, or associate members | $200 |
| Young Professional Meet-Up | Non-Members | $400 |
| Hans Boepple Recital Reception | Contributions from local affiliates (chapters), individual members, or associate members | $200 |
| Hans Boepple Recital Reception | Contributions from non-members | $400 |
| Rising NW Stars Recital Reception | Contributions from local affiliates (chapters), individual members, or associate members | $200 |
| Rising NW Stars Recital Reception | Contributions from non-members | $400 |
VISITOR'S GUIDE AND INFORMATION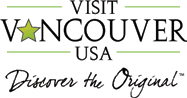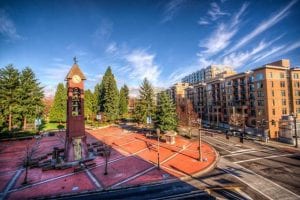 Explore Historic Downtown Vancouver