WASHINGTON STATE MUSIC TEACHERS ASSOCIATION
Established in 1915 and affiliated with the Music Teachers National Association
BECOME A WSMTA MEMBER
Washington State Music Teachers Association (WSMTA) promotes the art of music and the advancement of music knowledge by providing educational opportunities that further the appreciation of music throughout the state.
It is affiliated with Music Teachers National Association (MTNA).
To become a member of WSMTA, join through MTNA.
Registration Open Now!
We are thrilled to have Dr. Jeffrey Savage, NCTM and Dr. Karen Savage, NCTM as our Conference Guest Artists at our first ever virtual conference June 17 – 19th.  The conference will feature more than twenty presenters, covering everything from pedagogy to best business practices. There will be opportunities for connecting with old colleagues and meeting new ones. For more details, see our conference page!
WSMTA Elections
June  19, 2021
WSMTA is excited to be able hold its elections during the annual conference.  Members will have a chance to vote on new District Directors and a Vice President, as well as weigh on a proposed Bylaws change.  For more information, please see pages 5 and 8 in the current issue of the Clarion.
WSMTA HAS OVER 1,000 INDEPENDENT, COLLEGIATE AND UNIVERSITY MUSIC TEACHERS
DEDICATED TO ENRICHING THE LIVES OF ALMOST 28,000 YOUNG MUSICIANS
Looking Ahead
Governor Inslee recently outlined his Roadmap to Recovery process, which will guide Washington residents and businesses.  The full plan is posted here, and WSMTA members are also encouraged to consult their county public health department guidelines.
As we move into the spring musical events (MAP, MLP, festivals, chapter and studio recitals, chapter honors competitions, etc.) our overriding priority is the health and safety of our teachers, visiting artists, students and their family members.
Flexibility remains a key word in our lives these days, so having a back- up plan for any in-person music event is prudent in case safety protocols cannot be maintained according to the state and local health directives.
For additional insight into possible legal issues surrounding pandemic protocols, including liability caused by failure to follow state and county guidelines, MTNA has prepared a helpful guide to legal liabilities.  That guide is available here.  It also addresses concerns individual music teachers have as they consider their policies on face to face lessons vs. online lessons.
MTNA is available to answer questions:  [email protected] or (888) 512-5278.
WSMTA is not in a position to mandate how every event, festival, recital, etc. in your studio, local association, or District should be run. However, WSMTA unequivocally expects that every member will follow the health directives of Washington state and your local county health department.
Let's all work together to stay safe, and healthy so we can continue to make music in the days ahead!
Register Today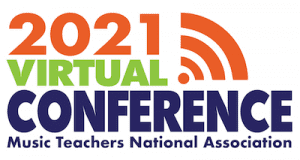 March 13 – 17, 2021
The MTNA Virtual Conference was an inspiring success, and registration remains open through May 28, 2021.  Pedagogy Saturday is included in the conference fee, and all Conference recordings are available to attendees until June 1, 2021.  Several WSMTA members, including Peter Mack and our WSU Collegiate Chapter presented.


As our lives continue to evolve and change with each passing day, many of you may be wondering how the music teaching profession can be sustained.  Some teachers believe that teaching students online is the best idea for the time being.
Communications Coordinator Samantha Yeung has worked with WSMTA members to compile a list of online teaching resources.   These include equipment recommendations, tips for setup, pedagogy changes, and advice to give your students and parents.
It is possible to keep music in your students' lives.  Get started today!
MTNA Northwest Division Junior Results
MTNA Northwest Division Senior Results
MTNA Northwest Division Young Artist Results
MTNA Northwest Division Elementary Results
MTNA Northwest Division Junior Results
MTNA Northwest Division Senior Results
MTNA Northwest Division Young Artist Results
TO CONTACT THE WSMTA OFFICE
Phone:
206-783-1975
Email:
[email protected]
Office Hours:
Monday through Friday from 9:00 a.m. to 1:00 p.m.
Fraud Phishing Alert
WSMTA will not request you to purchase gift cards, send money, or contribute to anyone via email, phone or text.  We have specific protocols in place for all financial transactions of any kind.  Please mark any emails you receive in this manner as spam. Do not reply to the email or texts.  If you have a question about the message, contact the person directly to check it out.
UPCOMING EVENTS & DEADLINES
For a full calendar, click here.