MTNA Student Performance Competition
For advanced students interested in performance competition, the MTNA performance competitions offer that opportunity.  The competitions are open to any student who plays at the level of the required music, and are offered at the Junior, Senior, and Collegiate levels.  The state competitions are considered the primary educational level, with the division and national levels showcasing outstanding performances and honoring significant pedagogical achievement.
More information concerning guidelines and registration are available online at MTNA.org
November 10 – 12, 2017
Central Washington University, Ellensburg
Registration for the 2017 competition will open in August 2017.
REGISTRATION DEADLINE: September 13, 2017 at Noon PT
WSMTA Teacher Registration Fee:   Deadline September 13, 2017. The fee is $45 for each entrant.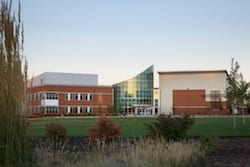 Music Building at Central Washington University
Winners of the State competition will compete at the Northwest Division level in January.
More information is available online:  Northwest Division Competitions
When:            January 14 – 16, 2017  (Saturday–Monday)
Where:           Lewis and Clark,  Portland, Oregon
Questions?   Contact Mary Kaye Owen, NCTM, MTNA NW Division Competition Chair
Winners of the Northwest Division Competition will compete at the National level in March.
When:            March 17 – 21, 2018
Where:           Orlando, Florida