Music Artistry Program (formerly called Adjudications)
The Music Artistry Program of WSMTA is a self-supporting annual event developed for students to encourage interest in music and to maintain standards of fine musicianship.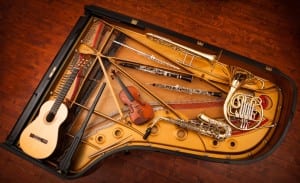 What is the Music Artistry Program?
Set goals which encourages preparation beyond the normal weekly routine.
The process is similar to sports: practice – games – tournaments.
Perform for a highly-respected visiting artist
Work one-on-one with the visiting artist to improve your performance
Receive written comments and a certificate for your hard work
The Music Artistry Program serves as a goal for your child to prepare two memorized pieces
Non-competitive format encourages learning, rather than comparison with others
Visiting artists are experienced teachers with advanced training, have been carefully screened by WSMTA, are nationally certified by MTNA and many serve on college faculties around the Northwest
Challenge yourself and your students to achieve goals
Observe your students' lessons from a third-person perspective, often seeing new ways to approach difficult situations or unique problems
Share ideas and questions with a supportive colleague during one-on-one time with the visiting artist after they has heard all your students
Discover trends and areas which may need improvement
The Music Artistry Program (MAP) may be organized and carried out by Chapters for piano, voice, organ, string, woodwind or brass by April 18. A preliminary report must be filed by November 1st with the MAP chair using an approved adjudicator from the WSMTA adjudicators list.
A non-WSMTA member may participate with a registration of $125.00 plus student fees.  Please contact WSMTA Executive Manager, Kirsten Carlson  for registration instructions.
Information for the Teacher
Procedural information and materials are available for each teacher and are listed below or through your local chapter MAP Chair.
If you would like to register  your students for the Music Artistry Program, please login to the Member Dashboard. You will need to fill out a "Student Registration" and a "Teacher Registration".
A video tutorial is being created for you.  This will take you step by step through the process of this new online registration process. It will be coming soon!
Information for the Chapter Music Artistry Program (MAP) Chair
Information for the Visiting Artists (formerly called Adjudicators)
Please click here for:  Visiting Artist Instructions & Policies
This document contains a wealth of information to help ensure a successful event for all involved. Please read and review before your next adjudicating job.